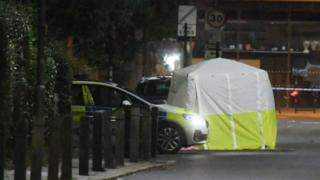 A man shot dead on Christmas Eve was attacked in front of his family after a night out, police said.
Flamur Beqiri, a Swedish national, was killed in Battersea Church Road in south-west London at about 21:00 GMT.
Neighbours described hearing multiple gunshots followed by a woman screaming "desperately" for help.
A spokesperson for the Met Police said the killing which "saw a man losing his life in such a horrific way" had left his family "devastated".
The 36-year-old, who had a wife and young child, was pronounced dead at the scene by the emergency services.
Lying in doorway
Neighbour Vittoria Amati, 60, said she heard between "eight to 10" gunshots fired.
"I then heard the screams of the wife. I came out and realised it was one of my neighbours.
"He was lying in front of his doorway in a pool of blood. He was still alive. We were really hoping he would make it.
"You have no idea how desperate she [his wife] sounded."
A young woman, who identified herself as a nurse, tried to help Mr Beqiri by applying pressure to his wounds, Mrs Amati added.
Det Ch Insp Jamie Stevenson said: "Our investigation is in the very early stages and we are still working to establish what the motive could be that has led to a man losing his life in such a horrific way, on Christmas Eve, in front of his family.
"They have been devastated by this horrible event and are being supported by specialist officers.
"We know that the victim was returning home with his wife and young child following an evening out, when he was shot just yards from his home."
The officer added the assailant fled on foot in the direction of Battersea Bridge Road.
Supt Richard Smith said: "There is no suggestion that there is any ongoing risk to members of the local community in Battersea."
The death is the 135th homicide in London in 2019, the highest number in a calendar year since 2008.
residential pest control services epsom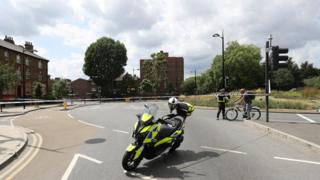 A woman riding an electric scooter has been killed in a crash with a lorry in south-west London.
The 35-year-old was pronounced dead at the scene at the Queen Circus roundabout, Battersea following the crash at about 08:30 BST.
A Metropolitan Police spokeswoman said her next of kin had yet to be informed and no arrests had been made.
In July last year a cyclist was killed at the roundabout after being hit by a bin lorry.
A London Ambulance Service spokeswoman said: "We sent an advanced paramedic, two ambulance crews, an incident response officer and two medics in cars to the scene, with the first of our medics arriving in under four minutes.
"Sadly, despite the extensive efforts of medics, a woman died at the scene."
Transport for London and Wandsworth Council redesigned the roundabout in 2015, which trialled the use of raised kerbs and separate traffic lights to keep cyclists and vehicles segregated at junctions.
Concerns had been raised that the new layout was too complicated.
While the cause of the crash is unknown, e-scooters are illegal to ride on public roads, including in cycle lanes or on the pavement.
A Department for Transport spokeswoman said: "We extend our deepest sympathies to all those involved in this tragic incident, and fully support the police as they carry out their investigations.
"Safety is at the heart of all our road laws and it is important that retailers continue to remind people at the point of sale that it is illegal to ride e-scooters on public roads."
An electric scooter, or e-scooter, is similar to a traditional children's scooter but has a motorised engine attached.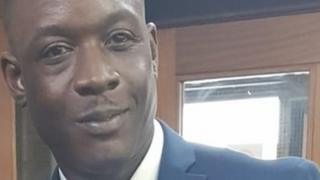 A man was stabbed to death in a south-west London street by the person he had been walking with, police have said.
Tesfa Campbell, 40, was found by police responding to reports of a fight on Latchmere Road in Battersea on Wednesday. He died in hospital.
Det Ch Insp Simon Harding, from The Met, said it is believed Mr Campbell was walking on Burns Road with another man who stabbed him and fled on foot.
No arrests have been made in connection with his death.
Police found Mr Campbell injured at about 14:45 BST and have appealed for witnesses who were in the area at the time, "particularly" around the nearby Latchmere Leisure Centre.
Det Ch Insp Harding said: "This stabbing happened in broad daylight and we believe there are people out there who can help us establish the facts of the incident."
A post-mortem examination of Mr Campbell, who was from Croydon, will happen in due course.