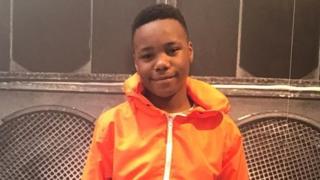 A 14-year-old boy was murdered by a "yellow-gloved attacker" who was part of a gang that set out to murder a rival, a court heard.
Jaden Moodie was repeatedly stabbed in a "violent and frenzied" attack carried out by three men on 8 January.
After Jaden's death, yellow "washing up gloves" with traces of his DNA as well as that of the accused, Ayoub Majdouline, were found in a drain.
The 19-year-old denies murder and is on trial at the Old Bailey.
Jurors previously heard that Jaden was driving on a moped when he was "struck head on" by a Mercedes car which was later found abandoned and burnt out.
His crash helmet came off when he was hit and he was then stabbed by five men who had armed themselves with knives, prosecutor Oliver Glasgow QC said.
In addition to the yellow gloves, jurors heard a knife showing traces of Jaden's blood on the blade and Mr Majdouline's DNA on the handle was found in the drain.
Mr Glasgow said: "After Jaden Moodie's killers left the car, they threw away a blood-stained knife and pair of gloves, both of which are linked to this defendant.
"The clothing and footwear that they had worn during the attack was also removed and burned in the churchyard and amongst that pile of debris was clothing and trainers that is linked to this defendant.
"Whether those connections are because this defendant was one of Jaden Moodie's killers or whether there might be an innocent explanation will be for you to decide once you have heard all the evidence in the case."
Mr Majdouline was arrested on 19 January and said no comment in his police interviews, Mr Glasgow said.
Defence barrister James Scobie QC said there was "no dispute that Jaden was a defenceless victim".
He added: "However the defence case is that Ayoub Majdouline was not in the Mercedes that night."
The trial continues.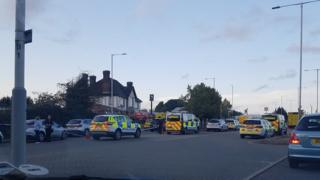 A man stabbed to death at a London Underground station was a football fan on his way to a match, the BBC has been told.
The Arsenal supporter was killed in an "unprovoked attack" on the platform at Hillingdon station on Tuesday.
He had been on his way to the Emirates Stadium to see the Gunners face Nottingham Forest in the third round of the Carabao Cup, a source said.
It is the third murder investigation on the Tube network this year.
No arrests have been made over the attack, which Det Supt Gary Richardson described as "a shocking act of violence".
He said the British Transport Police (BTP) investigation was in its "early stages".
"We believe a group of young men were involved in an altercation on the platform before one of the men received a fatal stab wound," he said.
Police were called to the station in west London shortly before 16:00 BST and the victim was pronounced dead at the scene.
Danielle Foster, who was driving past Hillingdon station at the time of the stabbing, said upon "hearing so many sirens, I knew something terrible had happened".
"Lots of people were being turned away from the station as it had been closed," she said, adding: "Then the police helicopter began circling the scene."
Hillingdon station was closed by Transport for London (TfL) while police searched the area.
The station has since reopened.
So far in 2019 more than 110 murder investigations have been launched across London by the Metropolitan Police and BTP.
The other two murder investigations carried out by BTP happened after killings at Queensbury Tube station in March and Elephant and Castle Tube station at the start of this month.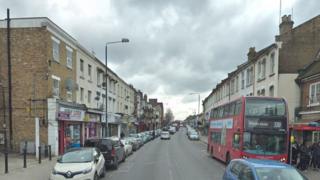 A 21-year-old man has been stabbed to death on a high street in north-west London.
The victim is thought to have been attacked by a group of men before seeking help at a betting shop in Harlesden High Street at about 21:00 BST on Tuesday, police said.
He was taken to hospital but died at 02:47 on Wednesday. His next-of-kin have been informed.
Seven men have been arrested in connection with the attack.
A spokesman for the Metropolitan Police said the men remained in custody, but could not confirm what offences they were being held on suspicion of.
A post-mortem examination will be held later.
There have been three other stab attacks in London since Tuesday afternoon.
The victims are a 17-year-old boy in Merton, a man in West Drayton and a 28-year-old in Wembley, who is in a critical condition.